Environment
Sale of Grazing Land at Hertford Road Digswell Park Road (5) Update 27.06.20
Further to the last update, WHBC have moved with commendable speed to place an Article 4 Direction on the land (as requested at the meeting of local Parish and Borough Councillors, the DRA and the Head of Planning WHBC)
The Article 4 Direction is in place for 6 months, during which time the Council has to confirm this decision at the conclusion of a planning process, which includes a period of consultation (6 weeks). There is every expectation that the Article 4 Direction will be confirmed and continue to be in place thereafter.
Among other restrictions, Article 4 prohibits the erection of fencing to sub divide the land into plots, without seeking planning permission. We believe that there is every reason to assume refusal of any such application
Clearly this is very welcome news.
We note that Exclusive Property Sales have placed 2 plots back on the market with Right Move. Any description to market this property must now include the information that is it is subject to Article 4 Direction. Should an attempt be made to bring these plots to auction we will take steps to ensure that the auctioneer fulfils the legal obligation to inform potential bidders. In our view Article 4 will deter any genuine interest.
There remains the issue of plots, which it is claimed are "sold". Article 4 should have an impact on the "sale" of these and there is every possibility that they do not proceed to completion.
Documents relating to Article 4 Direction are available to download from WHBC
http://www.welhat.gov.uk/a4d
We will continue to keep you informed. Digswell Residents Committee. 27.6.20
Digswell Park Road Land Sale.
The landowner was approached in April by 'Country Land Conservation', a Dublin based company stating it was interested in acquiring land for conservation to preserve habitats and protect endangered species. They claimed they were not interested in land for residential or commercial use. The landowner accepted an offer and contracts were exchanged. However, it was agreed that completion would not take place until 21 August 2020.
The land involved is a in a very sensitive green belt location in the Mimram Valley, between Welwyn Garden City and Digswell. It adjoins the historic Digswell (or Welwyn) Viaduct on the East Coast Mainline, constructed in 1848-50 by Sir William and Joseph Cubitt, which is a grade II listed building. The land is thus in planning terms the setting for a heritage asset. In addition, the land adjoins the River Mimram, which is one of only 200 'Chalk Streams' in the world, almost all of which are in Southern England. It also adjoins the nature reserve owned and managed by the Digswell Lake Society.
Subsequently the landowner discovered that the land was now being marketed by agents, Exclusive Property Sales. The field between Digswell Park Road and Hertford Road has been divided for sale purposes into 7 plots. 3 plots are shown as having been sold. The remaining 4 plots are to be sold by an on line auction on Tuesday 23 June. The details and locations of the plots are described in the attached Appendix, together with contact details for the agents and auctioneers
Local residents are extremely concerned about this development. A group has approached the landowner with a view to rapidly establishing a company to purchase the land as a whole. However, the landowner, having been initially sympathetic to this approach, has now declined to abort the current sale, as contracts have been exchanged.
Our concerns centre immediately on the damage that could be done to the landscape in this particularly sensitive area, once it is in multiple ownership. In particular we are aware that many structures and uses will be possible under permitted development rights, without planning permission being required. Thus we would urge Welwyn Hatfield Borough Council to give positive consideration to issuing an Article 4 Direction under the General Permitted Development Order (GPDO) 2015 to restrict the permitted development rights on this land. This is particularly required as the land is part of the 'setting' of a heritage asset, the Welwyn viaduct, which is grade II* listed.
February 2017 Cob Lane Pathway
It is always a pleasure to report on a successful outcome to community efforts to have improvements made in the locality. Promoted by the Digswell Residents Association the Welwyn Parish Counci have been able to find a way to have the pathway along Cob Lane Common resurfaced.
A statement from the Welwyn Parish Council says " These works were funded by County Councillor Richard Smith from his Locality Budget. The specification for the work was provided by the Hertfordshire County Council Parish Paths Partnership Officer, Tom Goldsmith, who has experience of undertaking the surfacing of rural paths in the County."
We would like to thank on behalf of Digswell Residents the WPC for this improvement which, added to the ongoing trees and ground maintenance also provided by the WPC make a big improvement to this facility.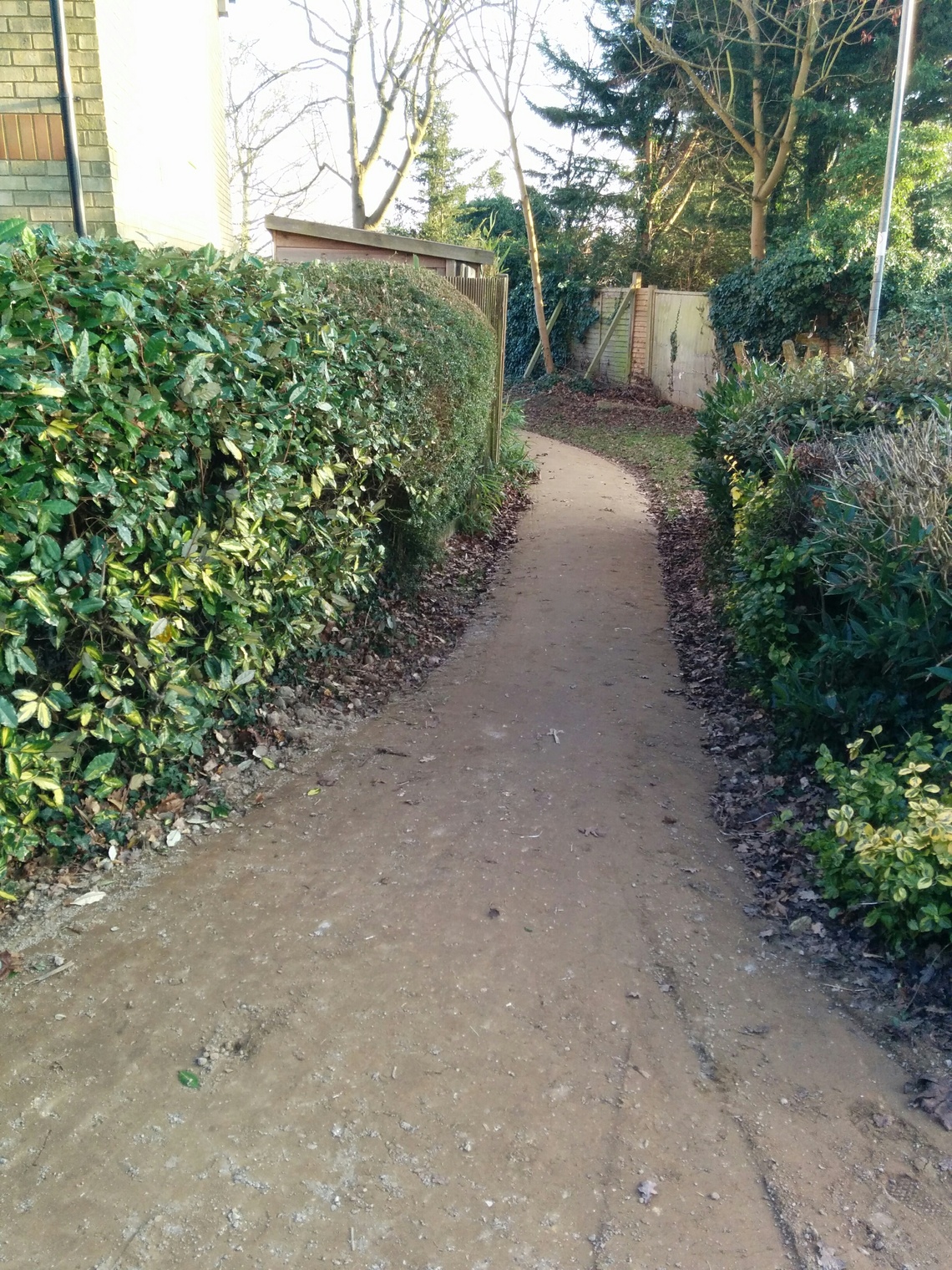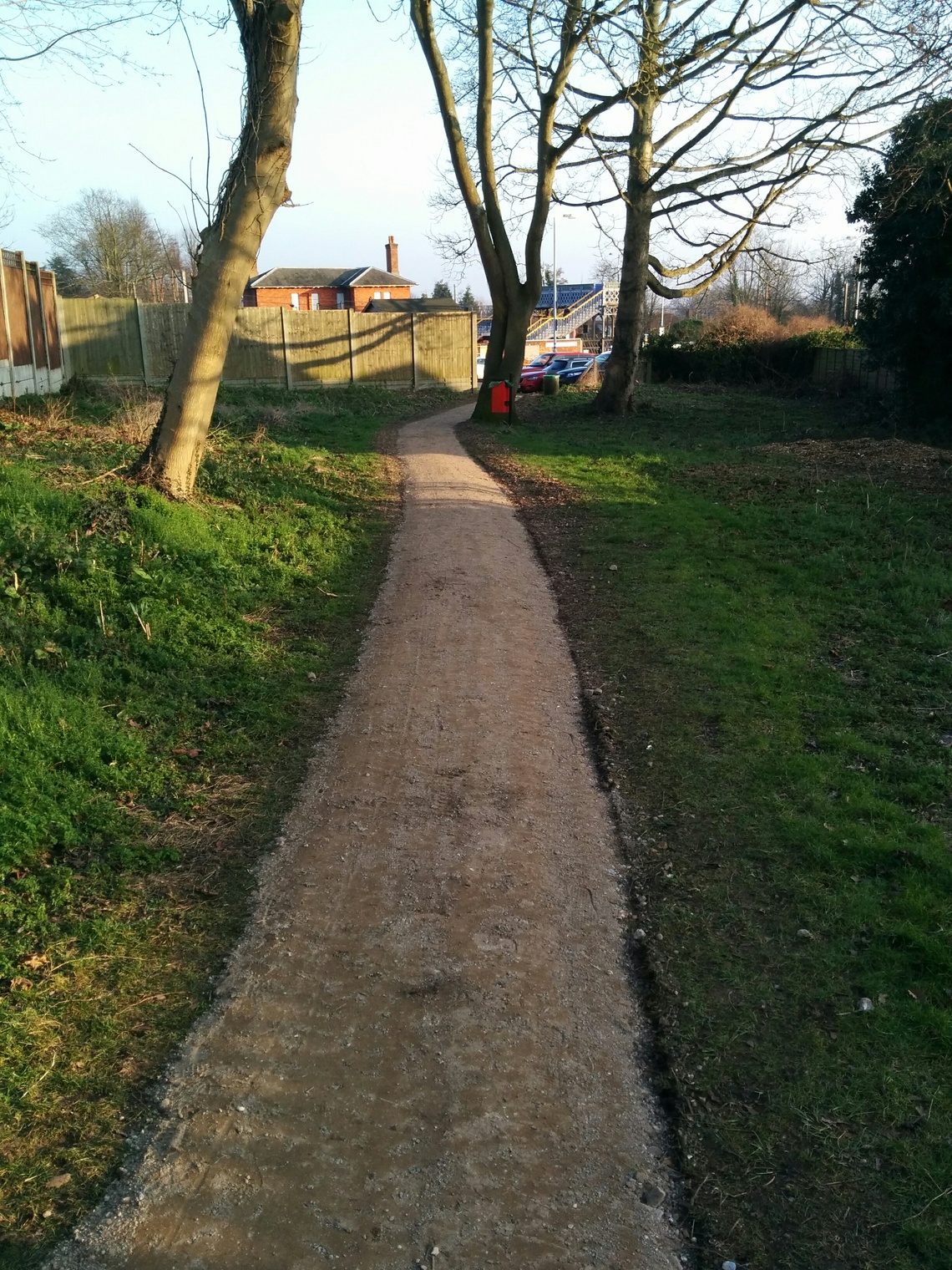 Report to Annual Meeting November 2015
Structural Maintenance work carried out this year.
Footway - Slurry seal - Cubitts Close, Carriageway resurfaced - Harmer Dell and Hertford Road (partial)
Proposed Works in the HCC Integrated Works Programme for 2015/2016
This is less clear as we move forwards although there is still a request for Carriageway and Footway resurfacing in Warren Way still outstanding. Thin surfacing for Warren Way, Foxley Grove, Woodside Road and Mornington along with pathway maintenance for New Road are included in the HCC Integrated Works Programme 2015/2016 but we have been told that going forwards there is no longer a 5 year plan and this type of work will be assessed annually.
A recent walkabout with Councillor Richard Smith was very positive and allowed the DRA to discuss our concerns. We hope this is the start of a good working relationship as we were able to highlight poor street furniture, road and pavement surfaces, overgrown vegetation and inconsistency in parking restrictions.
We need to be mindful that most of the remedial work is now outsourced and these contracts are difficult to change. The one bright spark is potholes that seem to follow an efficient process. I would encourage all residents to report issues on the HCC website.
Ongoing Reporting by DRA.
Pot holes, low iron works, blocked drains, sign cleaning & overgrown vegetation
Coal Yard Site. New Car Park for Network Rail.
This has been approved despite excellent work by Don Gentry and others. Whilst we accept that this is a political decision we had hoped that some of our concerns and issues would have been addressed. hered to. We await the start of the work to see whether anything has been accepted. One of these is phase 2 of the footway and kerbing works to include a new crossing point along Station Road.
Winter Maintenance.
Salt Bins. These have been recently refilled where necessary and we have again requested 34, 25 kg bags of salt for distribution by DRA which will be delivered and stored at The Village Hall.
Report complied by Eric Diment.